PEOPLE ARE GOING BONKERS OVER BONGERS!
PEOPLE ARE GOING BONKERS OVER BONGERS!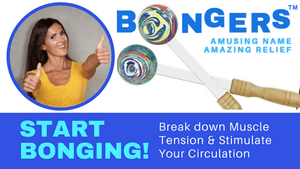 Once you start BONGING, you'll see how Fun & Easy BONGERS are to use!
BONGERS breaks down Muscle Tension, Stimulates Circulation, Reduces Stress, Promotes Relaxation, Reduces the appearance of Cellulite, Provides all over Pain Relief and Maintains Good Health!
YOU WONDER HOW ONE TOOL CAN DO ALL THIS?
BONGERS provide an invigorating percussion like massage which improves circulation & eases muscle tension. Most people store tension in their neck & shoulders, that's where BONGERS are most effective. Target key areas to reduce the appearance of cellulite. They feel good all over giving an invigorating, Shiatsu-like massage. Their flexible shafts do all the work, allowing the BONGERS to work indefinitely.
BONGERS have been used throughout the world by luxury spas, professional massage therapists, travell's trigger point practitioners, acupressure and shiatsu specialists, chiropractors, physical / occupational therapists, and so many more. It is also widely used by people who want to help give their loved one some much needed relief without straining their fingers, hands, wrists, elbows, and shoulders. Giving a deep tissue / focused massage often puts unnecessary stress on massage giver, and often leaves them needing a massage themselves. Giving a great massage with BONGERS is as Fun & Easy as playing the drums.
Stress Is No Fun!
Stress has a negative impact on our attitude, thought process, and even our bodies, which shows up as headaches, anxiety, and nausea. It also interferes with our sleep patterns, which doubles said impact. These troublesome mechanisms act as the body's warning system that something is wrong. While spas offer services to relieve stress, sometimes the expense of regular treatments can cause even more stress. Why not consider a reusable home-based and portable massage tool that gives you a professional feeling massage? By relaxing with a BONGERS massage after a long day you can reset your stress levels back to zero and approach any daily challenges with a fresh perspective. Great to give to a friend or loved one, easy to use for self-care.
Your Health Matters!
Proper circulation of the body is one of the most important aspects to obtaining better health. BONGERS effectively stimulates blood flow, which can help revitalize low energy caused by depression and hangovers, destroy cellulite, and break up congestion from pneumonia, bronchitis and chest colds. By improving your circulation with BONGERS you can also ward off the numerous disorders related to poor circulation as well as helping counteract the effects of aging.
As a result of all these benefits, BONGERS promote a positive attitude, deep sleep, good health, and personal growth.  All in one ingenious tool, BONGERS are portable, battery-free, inexpensive, reusable, fun, and easy to use!
START BONGING TODAY!